A Medically Developed Approach to Weight Loss and Weight Management
Sticking to a diet and maintaining a stable weight is difficult for most, but with the right motivation and guidance Ideal Protein makes that a thing of the past. LMG Wellness & Weight Loss is an independent authorized Ideal Protein clinic that helps you to learn and establish healthy habits, smarter lifestyle choices, and smarter eating choices so you are better able to sustain the new, slimmer you after dieting. Your results with the program will be lasting!
Ideal Protein is an adequate protein, low carb, ketogenic weight loss diet. Ideal Protein features balanced recipes and personalized coaching that enables you to eliminate foods that kick your pancreas into overdrive. When your pancreas is overstimulated, it causes an abundance of insulin, which leads to fat storage and obesity.
Ideal Protein enables you to have high quality proteins, that are easily digestible, with a higher bioavailability, while being lower in calories and grams of fat than just consuming proteins on your own. This promotes long-term muscle toning and strengthening along with losing weight and keeping it off.
Ideal Protein is a weight loss method that finally offers dieters what they really want…a structured program capable of putting an end to constant dieting. Our medically developed protocol is a plan with a beginning, a middle, and an end. Your weight loss will unfold in 4 phases: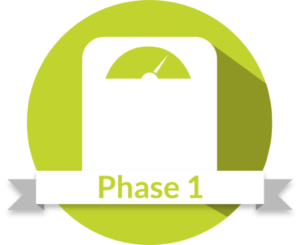 Achieving 100% of your weight loss goal; The Ideal You!
Learning the fundamentals of food and how it impacts your body;
Focusing on developing smarter eating habits and better lifestyle living!
Maintaining your Ideal Weight and the new you! The Ideal You!
What can you expect?
Rapid weight loss with a focus on protecting lean muscle mass
A personalized approach to setting weight loss goals, based on your individual health profile
A structured and simple eating plan that easy to plan and affordable
Weekly one-on-one coaching throughout your Ideal Protein journey
Weekly body composition analysis
Healthy lifestyle education and an understanding of nutrition and how food affects and is utilized by the body
Online Tools, daily videos, and recipes to guide you along the way and maximize your success
The emotional support of your personal coach and guidance to help you sustain your Ideal Weight
Let's Get Started!
Start your transformation with the Ideal Protein Weight Loss Protocol today!
The first step is to attend a FREE educational seminar, held Monday evenings at 5:30 pm at our Cornwall Location. Additionally, by attending you will have an opportunity to learn more about the program, ask questions, sample some of the food, hear from some success stories, and meet the faces behind the uncompromising personal support before making the decision to start your transformation.
Call or text 571-289-3238 to reserve a spot! All seminars are held at our Cornwall Location: 224-D Cornwall Street NW Suite 401, Leesburg, VA 20176
We look forward to seeing you soon!
Our medically developed weight loss protocol and smarter lifestyle choices education offers dieters what they really want…a structured program that can put an end to constant dieting.
Business Hours
Cornwall Location
Monday: 
9:00am - 5:00pm
Tuesday: 
9:00am - 5:00pm

Lansdowne Location
Thursday: 
9:00am - 5:00pm
Friday: 
9:00am - 5:00pm
Saturday: 
8:00am - 1:00pm
LMG Wellness & Weight Loss is Authorized to Use the Ideal Protein Weight Loss Protocol and Products. The testimonials on this website are those of the individual that is identified, you should not necessarily expect to receive these results. Typical results vary from person to person and individual to individual when the Ideal Protein Weight Loss Protocol is followed properly. You should consult your physician or other health care professional before starting this or any other diet program to determine if it is right for your needs.
224 D Cornwall Street NW Suite 402, Leesburg VA 20176 – Phone: 571-289-3238
Copyright © 2018 Ideal Protein All rights reserved.